Facility which can understand railway happily while touching the real thing
In 1962 (Showa 37) as the 90th anniversary of the opening of railway commemorative project former: Preservation is park facility displaying mainly on real railway vehicle which Japanese National Railways (Japanese National Railways) established.
It is facility which can understand railway happily while the outdoors displaying valuable railroad carriage including railway monument including steam locomotive which played an active part in Meiji, the Taisho era in garden, and displaying commentary document of railway mainly on model in attached memorial, and touching the real thing. In addition, we set up game facility other than mini-SL "formidable man" to be able to enjoy to small child.

About repair conduct of display vehicle (Portable Document Format: 38KB)


[access, guidance]
From Ome Station a 15-minute walk (there is steep slope on the way)
※Means of transportation hahagozaimasen such as buses. It becomes foot or the use of taxi.
※Visiting by car can use parking lot in adjacent Nagayama Park free.
 (as number is limited, please be careful)

[guidance of memorial]


There is corner that can know railway happily including commentary panel to introduce "model railway panorama" of a one-80th natural size and various large-scale precision railroad carriage models, knowledge about railway to in the first floor of the memorial exhibition room.
Section introducing display vehicle of Ome railway park is on the second floor, and there is observation deck on the roof.



[guidance of real thing display vehicle]
Done E10 form steam locomotives born after the war are displayed, and design and fabrication can touch flow of the history of steam locomotive for "3 locomotive" (110 form, railway monument) used for the first railway in Japan which started a business between Shimbashi - Yokohama in 1872 (Meiji 5), locomotive which is imported for the Meiji period by foreign country, and played an active part, domestic production steam locomotive representing period in the Taisho era, D51 form steam locomotive (degoichi), steam locomotive of Japanese National Railways representing Japan last. In addition, we are made early in the Showa era and display the lead car of commuting type train of ED16 form electric locomotive (associate railway monument) and early Showa era which played an active part in Ome Line till the last, 0 system train which played an active part in the Tokaido Shinkansen at the beginning of opening of business.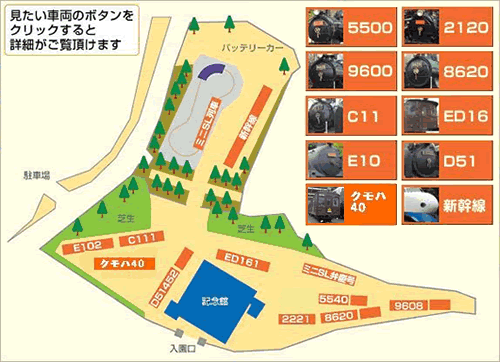 [110]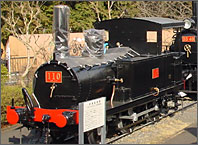 Form: 110 form steam locomotive
Car: 110
The production year: 1871 (Meiji 4)
Manufacturer: British Yorkshire engine company
Because we were given number of 3 by one of ten cars used for the first railway in Japan which started a business between Shimbashi - Yokohama on October 14, 1872 (Meiji 5), it is called "3 locomotive". With "1 locomotive" which saves for locomotive at the time of the opening of business in this locomotive and "Railway Museum", and is displayed (150 form), we come to be valuable at all. [railway monument designation]
[5500]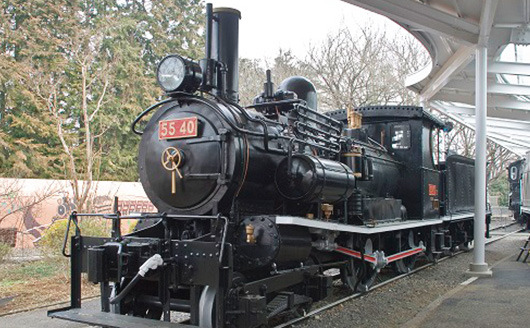 Form: 5500 form steam locomotive
Car: 5540
The production year: 1897 (Meiji 30)
Manufacturer: British bay yeah Peacock Corporation
By steam locomotive for the middle range that played an active part as passenger business at the beginning of the Taisho era period from last part of Meiji, we connect tender (tender). There are two sets of driving wheels (type B), and cylinder is attached to high position diagonally, and it features that cart having leading wheel in comparison with size of locomotive is long. Connector was rajo (chain) expression for the Meiji period, but is changed for automatic coupler later.
[2120]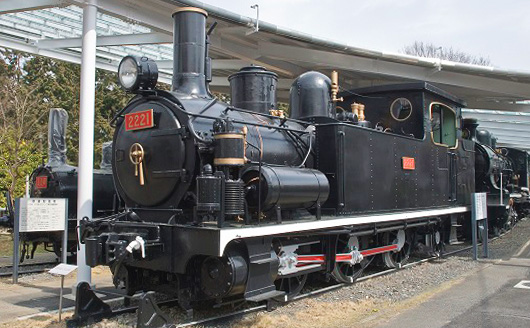 Form: 2120 form steam locomotive
Car: 2221
The production year: 1905 (Meiji 38)
Manufacturer: British north yellowtail tissue company
Because we need locomotive of big power than before, in the days of Russo-Japanese War, we were made, and there is driving wheel set of three (C type) in spite of being medium-sized tank type. It was easy to use by representative locomotive which was in the latter half of the Meiji era and was called by the name of another name "B6". We played an active part as freight and incline section business and were used for nyukanyo until about 1955.
[9600]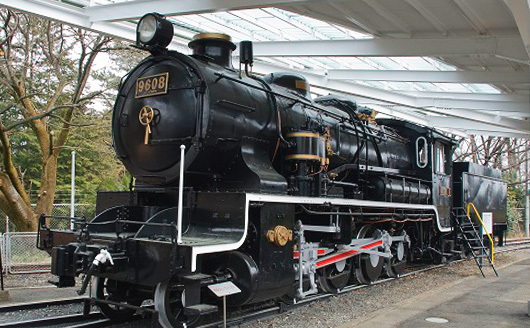 Form: 9600 form steam locomotive
Car: 9608
The production year: 1913 (Taisho 2)
Manufacturer: Kawasaki shipbuilding
By canonical form freight locomotive (D form) of the Taisho era, domestic original technique is used for each place. Because expensive boiler of mounting location opens firebox area with characteristic of this locomotive; is unique; is designed. 784 cars played an active part in each places except the Shikoku district of the whole country and were got close by nickname of "cue Roch". Steam locomotive was used last until lost 1976 by Japanese National Railways.
[8620]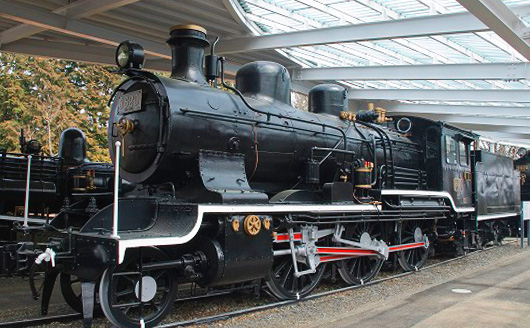 Form: 8620 form steam locomotive
Car: 8620
The production year: 1914 (Taisho 3)
Manufacturer: Kishia Seizo
It is passenger locomotive (C type) representing the Taisho era when steam locomotive comes to be prepared by domestic technique and was born as full-scale standard form. Size of driving wheel grows big with 1,600 millimeters, and valve Gere conveying power of steam to wheel matures structurally. 687 cars were prepared with one type, but honor that "bee Roch" of our garden produced among this and others first is the first unit which there is.
[C11]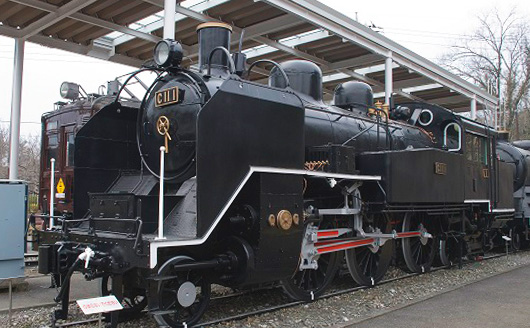 Form: C11 form steam locomotive
Car: C11 1
The production year: 1932 (Showa 7)
Manufacturer: Kishia Seizo
It is sealed pattern tank type steam locomotive for short distance made for the steam locomotive heyday. We adopt good large driver's cab of workability to commute frequently even if we do not change direction with turn table. We played an active part by the city suburbs with a little transport volume and local local line and were used widely for nyukanyo of freight train.
[ED16]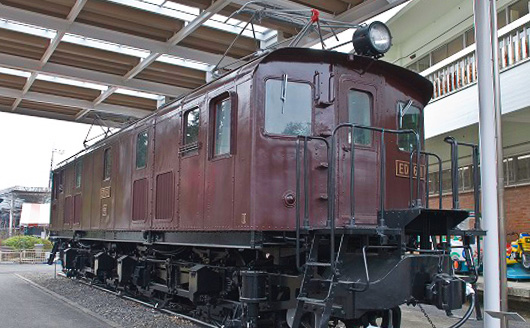 Form: ED16 form electric locomotive
Car: ED16 1
The production year: 1931 (Showa 6)
Manufacturer: Mitsubishi Electric, Mitsubishi shipbuilding
It is early domestic electric locomotive created in prewar days. The beginning of production played an active part in Joetsu Line and Chuo Line that electrification advanced as incline section and section with many tunnels. We pulled freight train which carried lime stone by Ome Line, Itsukaichi Line and Nanbu Line mainly in later years. This first unit is scrapped in 1980 (Showa 55) and is appointed to associate railway monument as domestic electric locomotive of a few dawns to stay now.
[E10]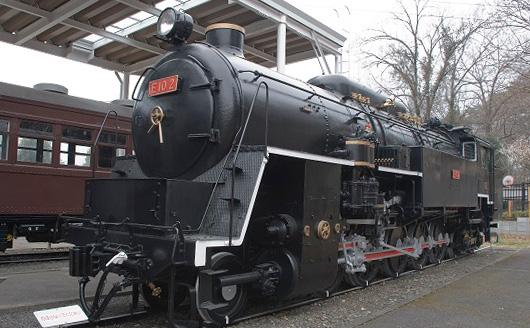 Form: E10 form steam locomotive
Car: E10 2
The production year: 1947 (Showa 22)
Manufacturer: Kishia Seizo
It is our country for steep grade that Japanese National Railways produced newly last's greatest tank-type steam locomotive. Middle driving wheel does not have flange to make it easy to turn at curve having big boiler and five sets (E type) of driving wheels. Because we premised back driving at first, engineer seat was located in the normal other side. We played an active part in Itaya Pass of Ou Line, but it was installed electrical appliances soon and might not play an active part for long term. We were used in power supply change section of Hokuriku Main Line in later years.
[D51]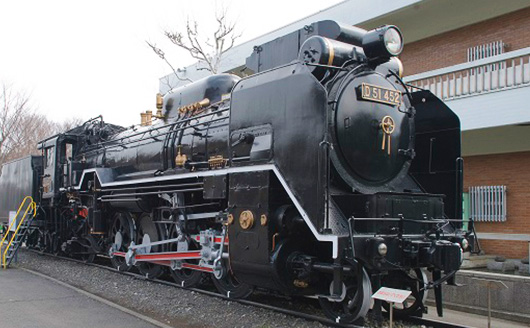 Form: D51 form steam locomotive
Car: D51 452
The production year: 1940 (Showa 15)
Manufacturer: Kishia Seizo
It was got close by steam locomotive for freight on behalf of Japanese National Railways as "degoichi". We were established, and production technology was made 1,115 cars of our country most for one form because performance was stable. It is almighty locomotive which played an active part in the whole country from prewar days to postwar period. Because there are many dual numbers, some differences are seen in form in production annual. In 1975, this friend pulled periodical freight train of the Japanese National Railways last in Hokkaido.
[Kumoha 40]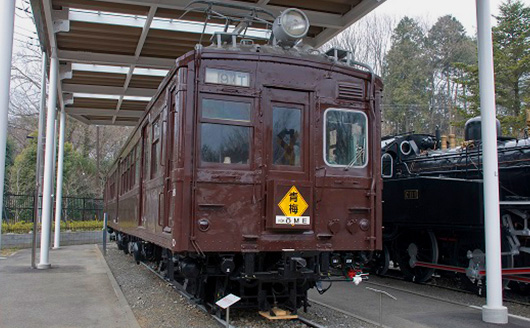 Form: Kumoha 40 form train
Car: Kumoha 40054
The production year: 1935 (Showa 10)
Manufacturer: Tanaka vehicle factory
It is train introduced for commuter transportation use of Tokyo, Osaka District from 1932 (Showa 7). We postpone for approximately 3m than conventional commuter train and boil the length of the vehicle 20 meters to increase capacity per one. In addition, it features "both driver's stand" which there is driver's seat in front and behind vehicle one by one. The same type of trains played an active part in Ome Line until March, 1978 (Showa 53).
[the 0 system Shinkansen]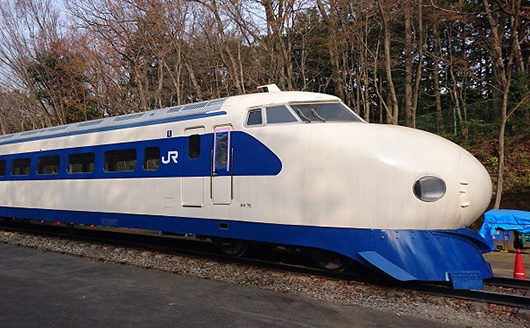 Form: 0 system 22 form Shinkansen train
Car: 22-75
The production year: 1969 (Showa 44)
Manufacturer: Kishia Seizo
By Tokyo close top car of 0 system made for the Tokaido Shinkansens which started a business in 1964 (Showa 39), this "22-75" issue is our one car done zobi for transportation of Osaka international exposition. 0 system is bullet train of train method rare worldwide that attached power and motor that it is to all the vehicles by memorable vehicle which commercially operated more than 200km per an hour as "Hikari" for the first time in the world. (as for this vehicle, floor looms device such as motors is removed for display)