We establish to reproduction of former Shimbashi station station building
It is free exhibition room which anyone can use casually. You introduce the history of Shiodome that is the Japanese railroad birthplace and can see development and influence of railroad which pulled the modernization of Japan for the Meiji period through various things.

The 45th Loan Object Exhibition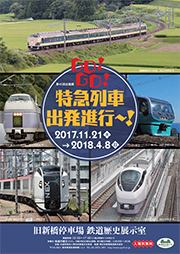 GO! GO! Limited express train departure progress ...!
From Tuesday, November 21, 2017 to Sunday, April 8, 2018
As for the limited express train (train limited express) of conventional line proud of high popularity along with the Shinkansen, Ayumi began from "echo" that started driving between Tokyo - Osaka, Kobe in 1958 (Showa 33). Thereafter by Kyushu and various vehicles appear from Hokkaido, and the footprint competes for speed and service during approximately 60 years and is got close to many people for sightseeing for business.
By book exhibition, we follow the history of such a train limited express and introduce figure of train limited express of each metropolitan area line from photograph and document, picture, model. In addition, other than JR, we take up about paid limited express of private railroad of individual metropolitan area. Furthermore, we display about the latest limited express train E353 system and 583 systems that put an end to achievement for 50 years in spring in 2017 (Heisei 29) that injection to "Azusa" of Chuo Main Line is planned. We introduce the latest limited express train and popular limited express train which played an active part from Japanese National Railways Era with the latest picture.


The 46th Loan Object Exhibition "evolution, new feeling, Shinkansen exhibition" (tentative name)
From Tuesday, April 24, 2018 to August (plan)
Name
Former Shimbashi station railroad history exhibition room
Address
〒105-0021 1-5-3, Higashishinbashi, Minato-ku, Tokyo
Access
From JR Shimbashi Station "Ginza Exit" a 5-minute walk
From Toei Oedo Line Shiodome Station "Shimbashi Station area wicket" a 3-minute walk
From Tokyo Metro Ginza Line Shimbashi Station "Exit 2" a 3-minute walk
From Toei Asakusa Line Shimbashi Station "JR Shimbashi Station, Shiodome area wicket" a 3-minute walk
From new urban traffic Yurikamome Shimbashi Station wicket a 3-minute walk
Opening time
From 10:00 to 17:00 (until 15 minutes before admission closing)
Closed days
But, in the case of holiday, the opening, Tuesday, the following day are closed on Monday
The year-end and New Year holidays (from December 29 to January 3)
Admission
Free of charge