We reproduce the external appearance of the first Shimbashi Station
It is free exhibition room which anyone can use casually. You introduce the history of Shiodome that is the Japanese railway birthplace and can see development and influence of railway which pulled the modernization of Japan for the Meiji period through various things.

The 47th Loan Object Exhibition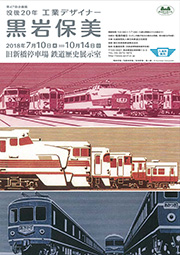 Posthumously 20 years industrial designer
Yasuyoshi Kuroiwa
From Tuesday, July 10, 2018 to Sunday, October 14
This year is the 20th-year age after Yasuyoshi Kuroiwa (kuroiwayasuyoshi, 1921-1998) died.
Yasuyoshi Kuroiwa Japanese National Railways (following, Japanese National Railways. We are registered at vehicle drawing office of forerunner) of the current JR group companies, and design, exterior color of head mark of limited express train and emblem of green car, drawing of various title letters are people who played an active part as in house (the company) designer including making. In addition, in field of railway hobby, we played an active part commencing with picture and photograph, editing of book widely.
By book exhibition, we look back on the achievement and introduce mainly on achievement in design of Japanese National Railways Era.


Hamarikyu and Shimbashi station (tentative name)
From Tuesday, October 30, 2018 to Sunday, December 2